Stand out more
Discover one-click ad publishing across a vast online classifieds network
Sign up now
COMPLETE REGISTER
Inventory management for firearms and ammunition
Keep track of every firearm's location and status
Safe keeping of inventory history
FULL LEGAL COMPLIANCE
Fully complies with EU Directive 2008/51/EC
Automated notices to Police Force
Complete documentation processing
SALES READY INVENTORY
Create a dealership from your inventory
Sell your firearms in the largest global marketplace
Features
COMPLETE REGISTER
Inventory management for firearms and ammunition
Keep track of every firearm's location and status
Safe keeping of inventory history
FULL LEGAL COMPLIANCE
Fully complies with EU Directive 2008/51/EC
Automated notices to Police Force
Complete documentation processing
SALES READY INVENTORY
Create a dealership from your inventory
Sell your firearms in the largest global marketplace
Sell your firearms in one quick and easy transaction
Manage your inventory
Staying organised means more time to spend selling! Our stock management tool means that you can hold all of your boats in one central online location. Upload, edit and manage your online stock to ensure your inventory is up to date and your adverts are working effectively to make the best sales.
Broadcast your adverts
Once your stock is uploaded, you can then choose to broadcast it to Gunstar or utilise one of our many external feeds. This will ensure your ads are reaching a large audience and saves you the hassle of uploading adverts to lots of different sites. Just one upload and your stock can be seen across the web.
Respond to enquiries
It's so important when making sales to respond to enquiries quickly. We're making managing your leads even easier by combining all the messages you get across the different sites in one central messenger. This makes it simple to talk to your potential customers, agree a price and make a sale.
Track your success
The key to being a successful dealer is closely monitoring your success and staying up to date with how your business is performing. Access performance data on your management dashboard to track your progress in terms of messages, phone calls and advert views. This will help you to learn more about what it takes to succeed.
Preview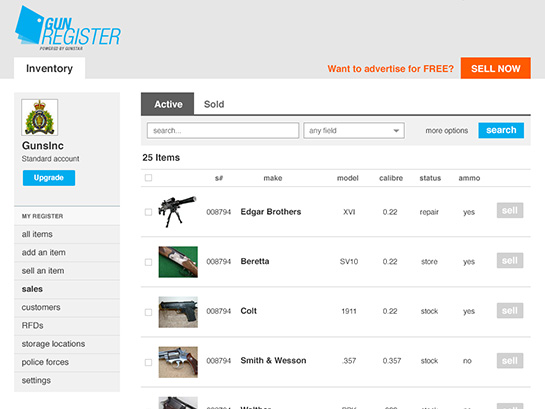 All your firearms will be located in a easy to operate inventory. With full details about your weaponary, these can be sold in a click of a button.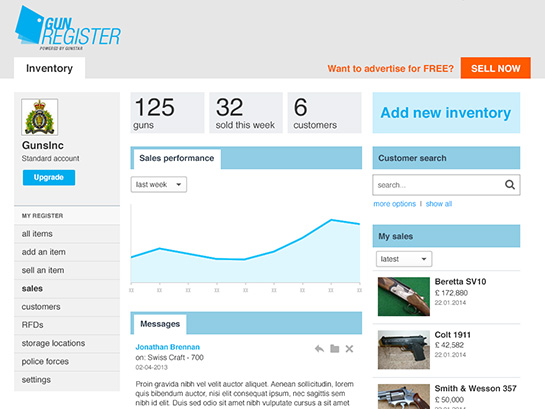 Keep on top of your account with dashboard. You can check your stock, edit your page, add or sell items all from one location.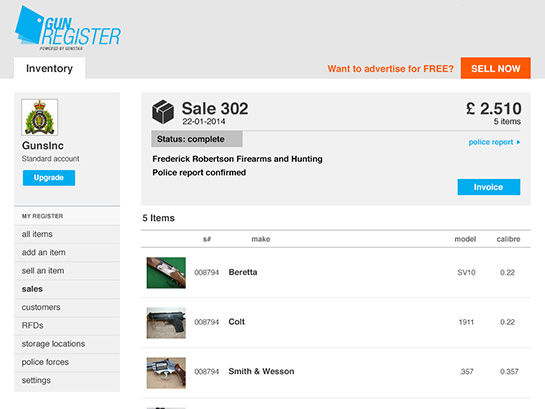 Manage your sales and keep a tidy record of past transactions, in full legal compliance and with automated documentation processing.